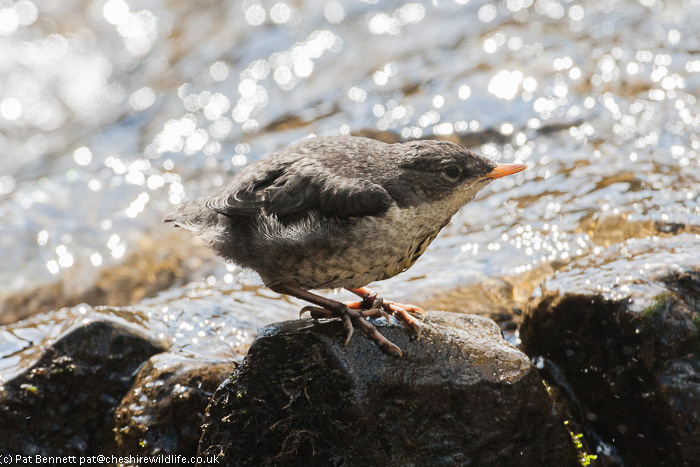 The stone bridge across the River Alyn has a brick missing on the underside of the arch, and dippers nest in the hole every year. This year, I had spent some time trying to catch the instant when an adult hands over a beakful of insects to one of the gaping mouths protruding from the hole – it does so in flight, with no hesitation, and is gone.
I had photos of the food pass from the previous day, good enough to see that both adult and chick close their eyes at the instant their beaks meet, but I went back today to see if I could capture an improvement. As I was setting up my hide, I suddenly realised that one of the chicks was standing on a stone in the river just a couple of yards away from me. I had the opportunity of photographing it on its first day out of the nest!
The chick flew to the opposite bank, but once I was in the hide, it forgot about me, and returned to the stone, where it searched for food. I was struck by how active it was in its search, and how confident it was in its watery habitat. It even landed in shallow but fast flowing water and bathed, ducking right under.
After a while, I noticed that it was displaying, but it turned out that it's target was another chick which had fledged.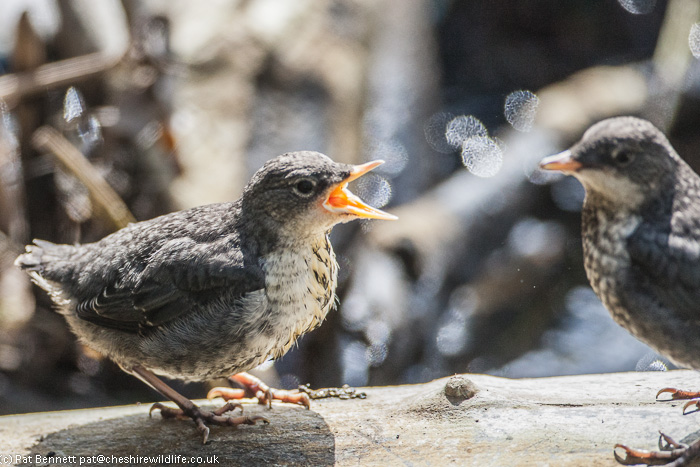 There followed an amusing interlude during which the chicks appeared to beg for food off each other!