A beautiful cold day, ideal for working in the wood. I wanted to fell a tree for both firewood for next winter, and milling for useful timber. It needed to be done soon, before the rising of the sap put more moisture into the wood, and I had decided to cut a stem with a slight lean which I hoped would guarantee the direction in which it would fall. However, I was due for a surprise.
It was difficult to see exactly what direction gravity would pull the stem, but I made the directional cut to point in a convenient direction which I expected gravity to agree with. However, as I made the felling cut, shortly before I expected the tree to topple on its hinge, there was a loud crack and the tree fell about 45 degrees leftwards, leaving about 6 feet of standing wood where the trunk had split.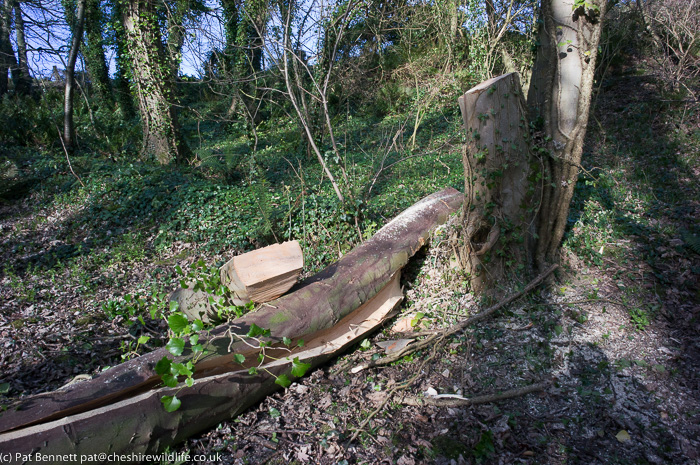 Ah well, a bit less timber to mill, but a bit more firewood for next winter ..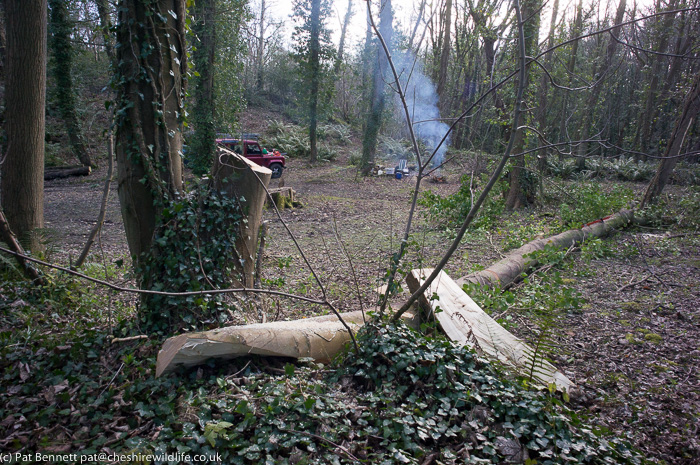 In the bank behind the felled tree, primroses were flowering, and while I was preparing to fell the tree, I heard a woodpecker drumming for the first time this year.  Later, as we sat eating our lunch, my eye was caught by a tiny movement near the ivy on a tree. I went over to see what it was, and there, basking in the sunshine falling on an ivy leaf, was a Red Admiral butterfly – and this on February 23rd!