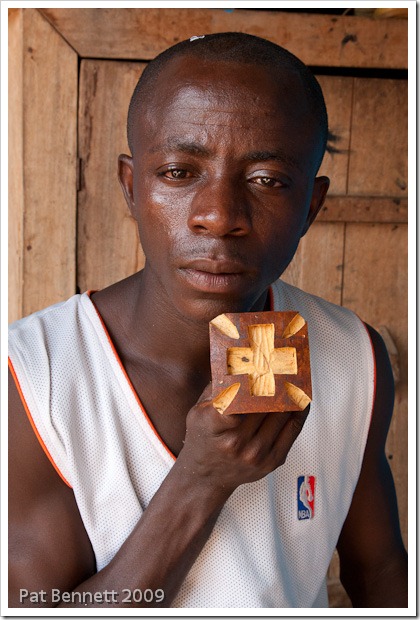 Paul lives in the village of Ntonso in the Ashanti region of Ghana. It is well known for its textile industry and is visited by many tourists. The textile workers of Ntonso specialise in a traditional textile called adinkra, which is used in mourning ceremonies. It is a cloth which is dyed black, and then marked with a different dye using stamps and other tools. Paul carves the stamps which are used to apply the dye to the cloth.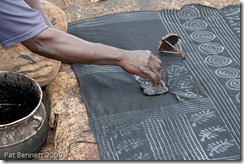 The stamps which are used to apply the dye are also sold to tourists as artistic objects in their own right, being representations of traditional patterns, all of which have meaning.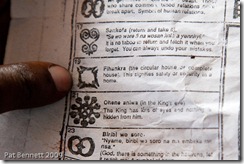 Paul showed me the pattern which he intended to carve for me – called Fihankra, signifying safety or security in a home.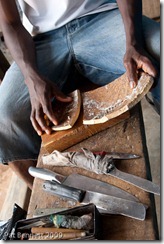 His raw material is calabash, the hard-wearing seedcase which is used in a hundred different ways throughout Ghana. Paul obtains his calabash from traders who have used it to transport shea butter to Ntonso from northern Ghana, where the shea tree grows. Shea butter is extracted from the tree's fruits, and is used as a cosmetic and in cooking.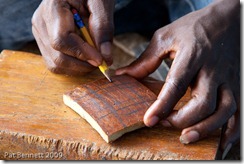 The first step is to cut the calabash fragment to the right size and then to mark guidelines for the pattern on the calabash shell.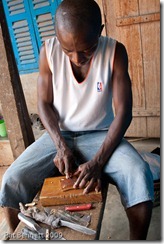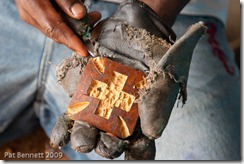 Paul then uses a number of small knives to cut the pattern into the calabash shell, and constructs a handle from slivers of bamboo.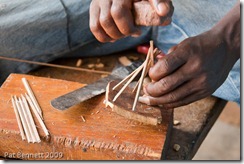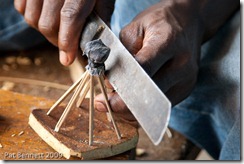 Paul said that he was good at art when he was in school, so that was a good reason for becoming an adinkra stamp carver. He earns his living by selling his stamps to the textile workers, but also to tourists, for whom he has a table displaying stamps he has carved – some of which have been used.